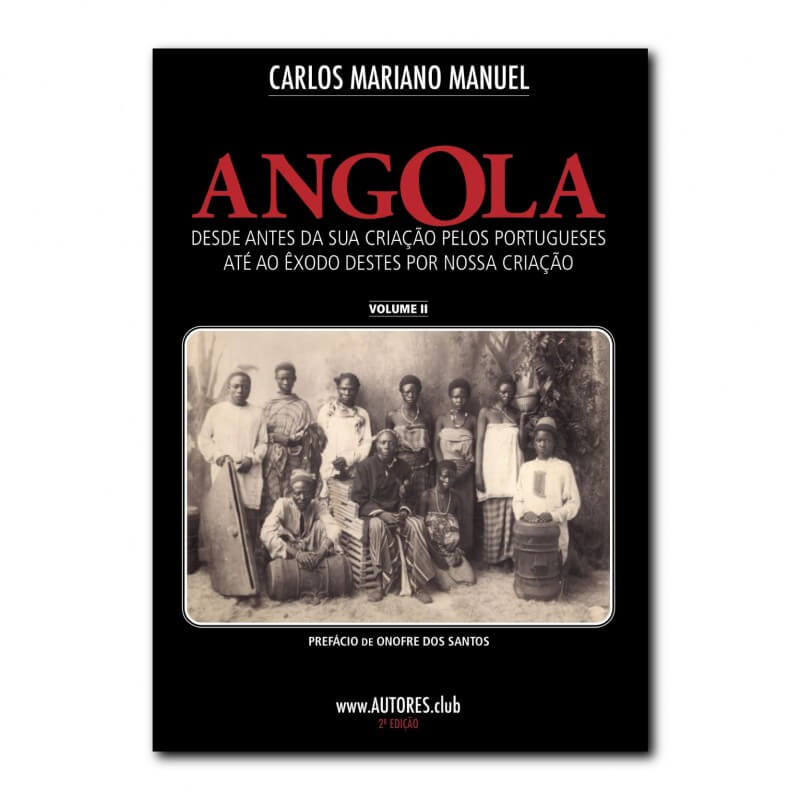  
Angola: from before its creation by the Portuguese until the exodus of these by our creation - Economic Edition - Vol. II
Author: Carlos Mariano Manuel

Publisher: Perfil Criativo - Edições
Year of publication (2nd edition): July 2021
Angola Edition - ISBN: 978-989-53209-3-6
Portugal Edition - ISBN: 978-989-53079-5-1
Number of pages: 606
Editor's Note: "A Great Parable"
Booking of copies: encomendas@autores.club
Free Reading: Volume II (26 pages)

Language: Portuguese
Security: The Authors' Store uses security measures to prevent the loss, abuse, alteration, unauthorized use or theft of your personal data. Payments: ATM, Credit Card, MBWAY, PayPal and Bank Transfer.

Deliveries: Our orders are shipped by CTT mail, on weekdays up to 48 hours after receipt of the order and payment. The shipping cost amount is calculated according to the weight + volume of the order and delivery destination. Information: +351 214,001,788

Returns: You can return your order within 14 days, under the same conditions as you received it, by sending an email to encomendas@autores.club indicating the reason for the return. In case it is not possible to deliver the order successfully, we will refund the entire amount paid.
INDEX - VOLUME II
Preface II, by Onofre dos Santos
CHAPTER XIII
The international conjuncture in the transition to the 19th century and the formal abolition of the slave trade in the territories under Portuguese colonial rule
Historical events that began on the American continent

and had global repercussions
The Portuguese abolitionist ordinary legislation

of the slave trade
The formal extinction of the condition of freedman and the successive creation

of the status of free person and the regime of bonded labour
CHAPTER XIV
The sparse and belated sedentarization of the Portuguese in the south of Angola in the nineteenth century and the widespread continued resistance of the natives, witnessed, by way of example, in the annual reports of three governors general
The undefeated Dembos region until the second

decade of the 20th century
"The natural condition of administration in this colony

is to make war and prepare for it"
The aggregation in the end of the 19th century of the East

of the current territory of the Country in the primitive colony of Angola
CHAPTER XV
The Berlin Conference on Africa
Some organizational aspects
Summaries of the subjects dealt with in the nine succeeding conferences

Plenary sessions of the Conference
Second Plenary Session
Third Plenary Session
Fourth Plenary Session
Fifth Plenary Session
Sixth Plenary Session
Seventh Plenary Session
Eighth Plenary Session and the initially rejected proposal

of the American representation to address

the inalienable right of Africans to dispose

of their territories
Ninth Session and the cunning diplomacy which created

the Congo Free State, a political-administrative entity

which preceded the current Democratic Republic of Congo
Tenth Session and the formal closing of the Conference
CHAPTER XVI
Effects on Angola of the Berlin Conference on Africa general context
The 'open-door' policy and the imminence, casually

frustrated, of Angola's slide into German colonial jurisdiction

german colonial jurisdiction
The new paradigm of Portuguese colonisation after the expiry

of the Berlin Conference on Africa
How commercial ambition in the colonial era

contributed greatly to the promotion

of alcoholism in Angola
The conception and implementation of the indigenato regime

in the 20th century
The Identity Card and the Assimilated Status

to European culture as instruments of freedom

and of social stratification of the natives
The taxation by the colonial authorities as an instrument

of domination over the natives: from the taxes of the cubata

and indigenous to the single annual tax
CHAPTER XVII
Economic history of Angola: from the simple plundering to the economic valorization of the territory, framed in the project of creation of the, for the colonial authorities yearned New Lusitania
From the times of the Zimbo, Makuta, Angolar, Real, Escudos

and foreign currencies to the institution of the banking activity

in Angola
Infrastructures of terrestrial transports
First great public work: the railroad, initially called Ambaca and later Luanda
Beginning of the construction of the Moçâmedes railroad, precipitated by the heavy defeat of the Portuguese forces

that occurred in 1905 in Cuamato
For the Benguela Railway "God must have spent

a whole night to make this magnificent port

for the Portuguese. It is the best natural harbor I have seen

on the coasts of Africa or America"
How the independence of the Democratic Republic of Congo contributed, indirectly, to the abortion of the Congo railroad, raising consequent difficulties

in the development of Northern Angola
Other railroads
Traffic and road equipment: Malanje casually anticipated all the localities in Angola's interior,

, in the opening of roads for automobile traffic
Entrepreneurship and professional talent of the natives
Angola's economic crisis in the second to fourth decades

of the 20th century
The institutionalization of Angola's First Development Plan

Projects foreseen in the First Plan

de Fomento Económico de Angola
Second Angolan Economic Development Plan
Interim, Third and Fourth Economic Plans
The paradox between the implementation of the Economic Development Plans

and the prevalence of social degradation

in the vast majority of the native population
CHAPTER XVIII
From the pride of the pluricontinental and multiracial empire to the swan song, as prodromes of its collapse: the only three sovereign voyages of Portuguese heads of state to colonised Angola
Revisit the steps in Angola of the three Portuguese presidents

and infer from them the social, economic and political evolution

of the territory in the 20th century
Brief description of the demographic and economic geography

of the city of Luanda in the period between the 17th and early 20th centuries

The Treaties of Simulambuco and Soio signed

between the Native Authorities and the Portuguese
Insalubrity of the city of Luanda and with the majority

of European citizens constituted

by criminal degredados
Continuation of the sovereignty tour of the first

Portuguese head of state to visit Angola,

general António Óscar de Fragoso Carmona
Sovereign visit of the President, General Francisco

Higino Craveiro Lopes
The swan songs intoned in Angola, on the decrepit and wounded colonial empire of death, by the last head of the Portuguese Estado Novo, Admiral Américo de Deus Rodrigues Thomaz
You may also like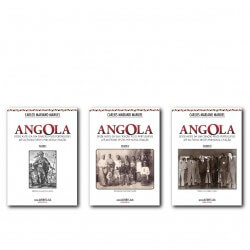 Normal price
€218.00
-15%
Price
€185.30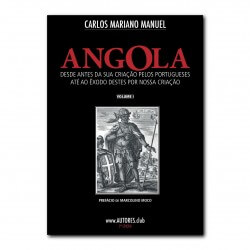 Normal price
€36.00
-15%
Price
€30.60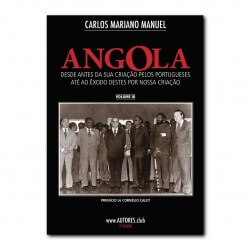 Normal price
€44.00
-15%
Price
€37.40
16 other products in the same category: