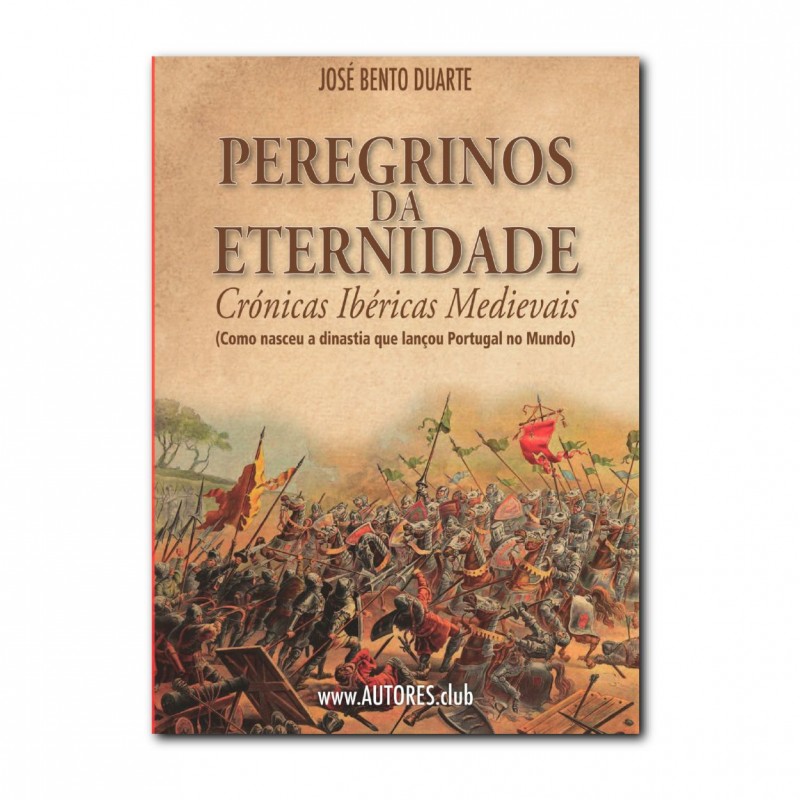  
PILGRIMS OF ETERNITY | MEDIEVAL IBERIAN CHRONICLES (HOW THE DYNASTY THAT LAUNCHED PORTUGAL INTO THE WORLD WAS BORN)
Author: José Bento Duarte
Publisher in Angola: Alende - Edições
Publisher in Portugal: Perfil Criativo - Edições
Year of publication: August 2023 - 2nd edition.
ISBN (Angolan Edition): 978-989-53276-8-3
ISBN (Portuguese Edition): 978-989-35076-5-0
Number of pages: 360
Language: Portuguese

SECURITY
AUTORES.club uses security measures.

DELIVERIES
Portugal: 4 days; Europe: 10 days; Rest of the world: 20 days.

RETURNS
You can return your order within 14 days.
ORDERS
(+351) 214,001,788 | encomendas@autores.club
BOOKSTORES
Order from a store near you.
ONLINE ALTERNATIVES
Fnac | Worten | Wook | Bertrand | Promobooks
"In my first encounter with the book [Pilgrims of Eternity], and influenced by the title, I thought it was a work of fiction. However, as I began reading the first page... I couldn't put it down. In fact, it's not a historical novel, but rather a collection of interpretations based on Portuguese and Spanish chronistic sources. Yet, it has the great virtue of being as captivating to read as a novel. Or rather, as engaging as a very well-written novel! It is a mature, critical, and balanced work of reflection on a range of subjects that have often been approached without the necessary questioning and doubts that the sources present and, above all, without the humanism that I believe is essential. This work encompasses all of that. The literary style does not diminish its scientific value; on the contrary, it enhances and appeals to the readership, stimulating them—it is a pleasure to read."
CARLA VARELA FERNANDES (Historian and University Professor, 2003)
_________________________
INDEX
Introduction
PART ONE - THE SIAMESE OF IBERIA
1st Chronicle - Approaching a Royal Portrait
2nd Chronicle - Bewitched Loves
3rd Chronicle - The War of the Women
4th Chronicle - The Word of Allah
5th Chronicle - Allah in Hispania
6th Chronicle - Last Stronghold in Granada
7th Chronicle - Alfonso XI Against Islam
8th Chronicle - Ladies in Their Places
9th Chronicle - Salado - The Vespers
10th Chronicle - Salado - The Massacre
PART TWO - PASSIONS OF PERDITION
11th Chronicle - Inês de Castro
12th Chronicle - Ancient Hatreds of Afonso IV
13th Chronicle - The Ghosts of Albuquerque
14th Chronicle - The End of El Onceno
15th Chronicle - The Hour of the Humiliated
16th Chronicle - The Revenge of Maria of Portugal
17th Chronicle - A Taste of Power and Blood
18th Chronicle - Maria de Padilla
19th Chronicle - A Troubled Favorite
PART THREE - THE DAYS OF JUDGMENT
20th Chronicle - Castilian Rebels in Portugal
21st Chronicle - Inês in the Storm
22nd Chronicle - All for Blanche of Bourbon
23rd Chronicle - The King and the Phantom Captain
24th Chronicle - A Fallen Heron by the Banks of the Mondego
25th Chronicle - Pedro and the Dead Queen
26th Chronicle - The Falcon's Dive
27th Chronicle - King-Beast
28th Chronicle - Struggle for a Crown
29th Chronicle - From Montiel to Alcobaça
PART FOUR - THE NEW GENERATION
30th Chronicle - A Beautiful and Gentle Heir
31st Chronicle - Portuguese Adventure in Castile
32nd Chronicle - Fernando in the Web of Leonor Teles
33rd Chronicle - Leonor and the Magic Throne
34th Chronicle - The English Partner
35th Chronicle - New Portuguese-Castilian War
36th Chronicle - The Crime of João de Castro
PART FIVE - TIMES OF REVOLUTION
37th Chronicle - Foreigners in Iberia
38th Chronicle - War and Comedy
39th Chronicle - Leonor's Bad Reputation
40th Chronicle - The Scare of João de Avis
41st Chronicle - Changing Partners
42nd Chronicle - Hand in Hand with Castile
43rd Chronicle - Throne Without a King
44th Chronicle - Death Sentence
45th Chronicle - Once Upon a Time, the Count Andeiro
46th Chronicle - João de Avis among Bourgeoisie and Baldheads
PART SIX - BIRTH OF A DYNASTY
47th Chronicle - The Visit of Juan I of Castile
48th Chronicle - Abdication and Rebellion
49th Chronicle - Leonor to the End
50th Chronicle - A Kingdom on the Razor's Edge
51st Chronicle - Nun'Álvares and the Barking Beast
52nd Chronicle - The Siege of Lisbon
53rd Chronicle - João de Avis, King
54th Chronicle - Nuno at the Gates of Eternity
55th Chronicle - Aljubarrota
EPILOGUE - DESTINIES AND DESCENDANTS
Notes to the Text
Dynasties of Portugal
The Iberian Peninsula in the 14th Century (Map)
Bibliography
16 other products in the same category: