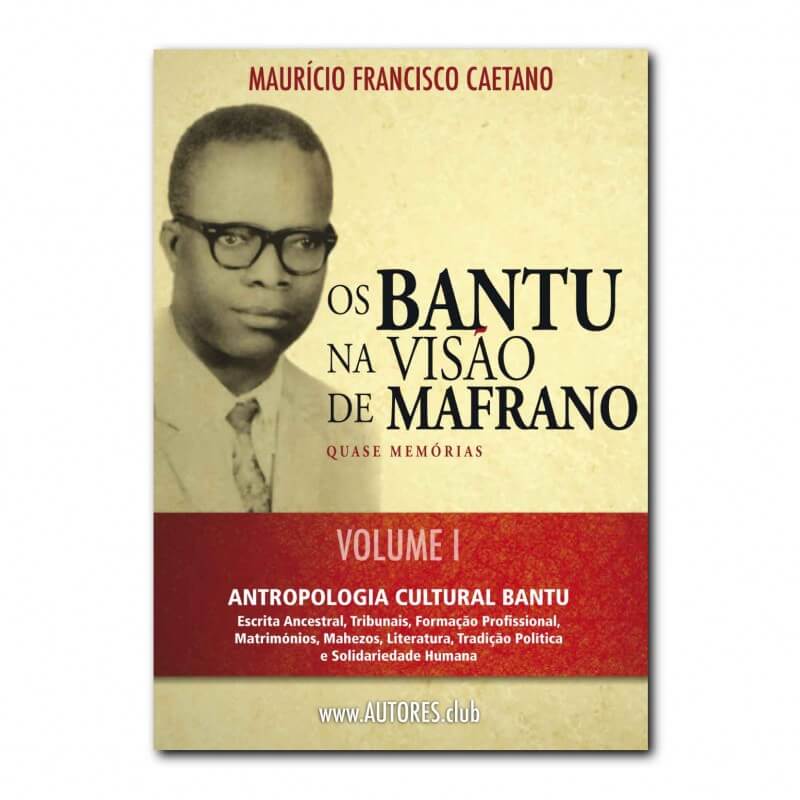  
Os Bantu na Visão de Mafrano — Quase memórias | The Bantu in Mafrano's Vision — Almost Memories — Volume I
"The writing is of thoughts or sounds. The first is called ideographic and, as a genre, has its variants (hieroglyfica, pictorial, emblematic, symbolic or allegorical) being all of background or imitative value and we will find it almost in the childhood of humanity, because it even encompasses the rock inscriptions (...)»
In fashion The Hypothesis of An Ideographic Writing in The Ancestral Bantu, Text No. 14
Author:Maurício Francisco Caetano

Publisher: Perfil Criativo - Edições (EU - Portugal)

Year of publication: May 2022, 1st edition
Portugal Edition - ISBN: 978-989-53348-9-6
Distribution in Angola - ISBN: 978-989-53276-7-6
Volume: I

SECURITY
AUTORES.club uses security measures.

DELIVERIES
Portugal: 4 days; Europe: 10 days; Rest of the world: 20 days.

RETURNS
You can return your order within 14 days.
ORDERS
(+351) 214,001,788 | encomendas@autores.club
BOOKSTORES
Order from a store near you.
ONLINE ALTERNATIVES
Fnac | Worten | Wook | Bertrand | Promobooks

Index
Preface by D. Zacarias Kamwenho

Chapter I
— THE HYPOTHESIS OF An IDEOGRAPHIC WRITING IN THE ANCESTRAL BANTU
Chapter II
— THE BANTU COURTS AND ITS LEGAL DEONTOLOGY

Chapter III
— BANTU MARRIAGES: Legal marriage and concubinage
Chapter IV
— GREETINGS BETWEEN THE BANTU AND ITS MAHEZOS
Chapter V
— VOCATIONAL TRAINING IN BANTU SOCIETIES
Chapter VI
— THE SUCESSÓRIO BANTU RIGHT: GENERAL PROVISIONS
— THE BANTU SUCESSÓRIO RIGHT: SPECIAL CASES

Chapter VII
— DEATH AND FUNERALS BANTU
Chapter VIII
— THE DEGREE OF KINSHIP BETWEEN THE BANTU
Chapter IX
— THE BANTU POLITICAL TRADITION
Chapter X
— THE BANTU LITERATURE: PRIOR GENERAL CONSIDERATIONS
— THE BANTU LITERATURE: THE LANGUAGE THAT CONVEYS THOUGHT
Chapter XI
— THE SENSE OF HUMAN SOLIDARITY AMONG THE BANTU
Chapter XII
— EPILOGUE — BANTU IS BLACK IS NOT "COLORED MAN"
— ANNEX I — ETHICS OF LEMBAMENTO AND HUMBE IN BANTU MARRIAGES
— ANNEX II — A PROFILE OF MAURÍCIO CAETANO, BY MANUEL RODRIGUES BOAL
Factsheet
Tongue

Portuguese

Format

170 x 240mm

Pages

Kernels

Munken Premium Cream 90grs/m2

Printing (Kernel)

Black

Cloak

With Badanas

Weight

0.4

Typography

Perfil Criativo - Pordução

Collection

The Bantu in the Vision Mafrano — Almost Memories
16 other products in the same category: