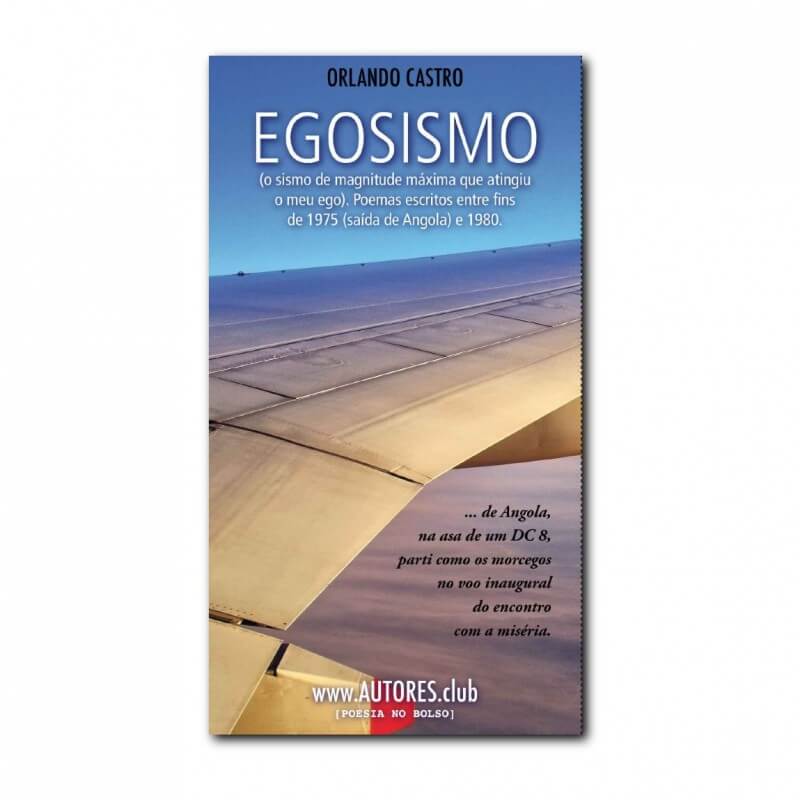  
Egosismo | Egosism
Author: Orlando Castro

Publisher: Alende - Edições (Angola) | Perfil Criativo - Edições (EU - Portugal)

Year of publication: March 2022, 1st edition
Angola Edition - ISBN: 978-989-53276-7-6
Portugal Edition - ISBN: 978-989-53348-7-2
Language: Portuguese

SECURITY
AUTORES.club uses security measures.

DELIVERIES
Portugal: 4 days; Europe: 10 days; Rest of the world: 20 days.

RETURNS
You can return your order within 14 days.
ORDERS
(+351) 214,001,788 | encomendas@autores.club
BOOKSTORES
Order from a store near you.
ONLINE ALTERNATIVES
Fnac | Worten | Wook | Bertrand | Promobooks
FOREWORD
When the poet is free as the catuituí, there is nothing to engage him...*
Says the popular adage that of poets and madmen we all have a little. I would add poets, crazy and designers, in fact, besides all we have a little, we are all unrealistic too.

Our realities are always beyond what is conventionally defined as normal. We walk dreamers on the moon, sail indolently in the sea waves of our thoughts, glide in the wind-free waves. I mean, in fact, we're crazy, but...

We are crazy, because we always want more and better the impossible, in what the truth shows, in most cases, to be impractical, unenforceable; as designers, we are not always – often never – able to transmit and reproduce ours, for some stowerstations, ideas; as poets, not inrarely, we are little taken seriously because we play with words, make them dance and mix concrete reality with sometimes painful affective emotion.

So – and the guilt, a large part of the guilt of what I am in the words, is his – I felt so honored, as at ease, to preface this work of Orlando Castro.

I will not go too far on who it is – or in the lyric, but not romantic, definition of José Filipe Rodrigues remains, – Orlando Castro. I'll say the school told you that if you did, journalist would be. But Orlando didn't want to be just that: he's a poet and playwright, a free thinker with no bandages to heal or shut up, a journalist firm in ideas and convictions. But also, someone who has given his hand and launched into the apathetic white pages of many leaves many people, Angolans, especially if not only, who sought to be writers.

He has been a Kamba who, some many, have been colying themselves in his sympathy, in his companionship, in his knowledge, and then they have forgotten to remove the stones that he, like all of us, has found along this meandering path that life has given him.

Some, many – although Orlando Castro never showed him clearly and never denounced them – not only did not take away his stones on the way, but they also helped to assemble more stones that would take away this path of life.

But poets have a virtue, for many strange, for others, incomprehensible, for others more, esoteric: the stones in the way are not blinds, but parts of a path that strengthens us and makes us better understandrs of the "follies", the "lighthouse", the "desleixação" that – eternally – "fruitful" the poet, as Orlando Castro shows us in his poem "Poeta" inserted in the first part of the work.

Orlando Castro tries to characterize his poetry, especially the one that comes from his deepest feeling of Angolanity, as if a modern bard took care of himself who sings the deep sorrows that were guessed at the time – as you will see below – in national history.

His first book of poetry, written and published in his then New Lisbon – Huambo – in 1975, entitled "Handcuffs of My Betrayal" – which deserved praise from one of the members of the then Presidential College of the Transitional Government, José Ndele, as can be seen by the facsimile of page 6 [to be confirmed later by the editor] – already showed what Orlando Castro predicted, as all of us who loved our country felt it: Angola had entered a dangerous vortex that would change the lives of many.

But Orlando Castro, like all those who feel Angola as the protein indispensable for a good and correct blood fluidity, felt that he would have, or could come to have, the need to look for stops, other floors, somewhat harsh – whenever we leave, / in we are sick, / disconform, / and other floors find us (unpublished ) –, not to silence the feeling that grew in it to thunder the floor-forest where the sun is stronger, the wind farther the loas takes and the purest rain life makes, in the hope, as António Agostinho Neto sang, To the houses, to our fields / to the beaches, to our fields / we will return. Because, as Tomaz Vieira da Cruz wrote, singing our Angola, this is Garden that is sun on every wild flower, / Garden that is fever in every bitter fruit"! / And the flowers of these aromatic mountains, / skies and dramatic landscapes, / are illuminating / of erased creatures / buried in the paths / through which the race exists beyond these paths. / Paths that are legionary souls / marking new trails...

And that's what Orlando Castro sought, did, wrote from 1975 to 1980 and now gives us to read. With due bow to Jorge Dario Santos Lapa, in a commentary on Óscar Ribas's book, Misoso, "it is a very personal document full of socio-cultural and even historical value" as you can read in the approximately 180 pages that make up yours, and, soon, our "Egosismo".

The work is divided into two parts and temporally compiles a whole collection of poems he wrote in the early years of his – and still unfinished – nomadism for Lusitanian lands.

They are verses, they are carmes, which sing and challenge their innermost being, their deepest and most introspective neuro-alveolos, in a free trigger, but not desocarated, are fluid, but not consque, are free, but not expended.

They are verses, they are poems, which transport us to a harsh and raw reality where the author felt that a terrible shock transmitted to him a new truth more naked, more disliked, more neo-real. As real as in the ode "Rainbow of desterro" in which the author disenchants I will smile, for you beautiful violet, / In the pink lidium of the wind / I will raise my purple fist; / Blow the bonomic orange horn, / Cry the white joy, no talent / War, black war without stamp.

Although Orlando Castro fears – let us not forget, I remember, what time period this work relates to – that his and our country would enter, like a thunderstorm in the poem "Angola despair" where Children dot / Without arms / Crying; / Unbelieving mothers / No steps, / Praying. it is also enchanted in temperance and in the hope of a distant horizon that the spilled pollen would make flourish in a freer, more fraternal, more crystalline, more prosperous Angola as inferininin these first stanzas of the poem "Do not cry poet" Because you cry poet / Who wander so far / Tearing the scent of a fountain; / Tell me what your goal is, / Love us like a bare cloud / That is fertilized in the pollen of the horizon.

Reaffirming by the eternal principle of the word, it is the sweet madness of the poet that makes us walk dreamers through the platinum moonlight, navigate indolent in the sea waves of our ideas, glide through the unoccupied frivolous nights of the free wind that allows us, even without losing the linear sense of a good and clear trail, to be lost from reality and tempered in the preservative desire to let nothing fade.

As wrote by what some consider the greatest British romantic poet William Wordsworth (1770-1850) – poet, not a deep-seed writer, that this is, as is commonly recognized, William Shakespeare (1564-1616), – in the poem "The Oak of Guernica", How can you flower in such times? / What hope does the sun bring you, or what joy? / Are you brought by the sea, / Or by light morning orvalhos? / Welcome be the blow that falls on you, / And on land stretch your immense frond, / If ever again, in its dense shadow, that is, Orlando Castro not having the perennial age of the very secular oak, where the Catholic Kings, Fernando TII and Elizabeth, of Spain, promised, in Guernica, in 1476, that Biscay would see their fora always respected, it is, however, an Elder respected not only for his main professional art, Journalism, but for poetry he continued to transmit to us after this time period that "Egosism" transmits to us.

As after a natural cataclysm, always comes the bonanza and the enjoyment tempered with the virid fruits of human ingenuity, I hope – hopefully – that a new work complementary to "Egosism" is always coming because, and as Orlando Castro said about his first "fruit" of the forests of huambo province, "Handcuffs of My Betrayal", which was worth to him, which was worth what was worth, but above all, he showed that there is never a comparison "between what is lost by not trying and what is lost for failure".

Until then, because this work will not fail, let us brave it as if by the Angolan chanas we penetrate forgotten of time and packed by the joyful and sonorous chilreios of the catuituí.

* Eugénio Costa Almeida (or Lobitino Almeida N'gola) Academic researcher, essayist, writer and poet (in his spare time, when there are...) Somewhere in the Atlantic aromas on 20 December 2021
Factsheet
Tongue

Portuguese

Format

110 x 200mm

Pages

Kernels

Munken Premium Cream 90grs/m2

Printing (Kernel)

Black

Cloak

With Badanas

Weight

0.2 Kg

Typography

Perfil Criativo - Pordução

Collection

Poetry in the Pocket
Specific references
Isbn

978-989-53348-7-2
16 other products in the same category: