BOOKS PUBLISHED IN PORTUGUESE LANGUAGE
Pauline Maria Baiona
Paulino Maria Baiona was born in Lãndana, Cabinda Province, Angola, in 1937. He began his studies of primary education in the Catholic Mission of Lãndana and, in 1948, he went to Luanda to continue his studies, as an internal student, at the former Casa dos Rapazes de Luanda, an institution linked to the Congregation of Missionaries of the Holy Spirit, where he completed primary education. He attended high school and finished the General Course of the Lyceums. During the student period, he learned and worked to gain practice in Radiotechnics Workshop, where repairs of radio receivers (better known as telephony), sound amplifiers, turntables, sound recorders and all equipment related to transmission and reception were made. He did the learning and worked at the Radio Luanda establishment, on Neves Ferreira Street, which had a good reparations laboratory and a good Master to teach.
In 1961, he did a brief internship at the air carrier Air Transport Division (DTA).
In 1962, he joined the civil aeronautics services. With the extinction of this body in 1980, continued its activity in the new company created, the Airport Exploration and Air Navigation Company (ENANA), where he worked until retirement in 2009.
Showing 1-1 of a total of 1 article(s)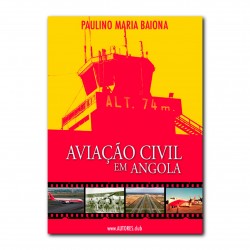 Normal price
€15.00
-10%
Price
€13.50