SPECIAL DISCOUNTS FOR REGISTERED CUSTOMERS
Mafrano (Maurício Francisco Caetano 1916–1982)
Son of Francisco João Caetano, tailor, from Cambambe, and Mariana José Marcolino, he was born, like his mother, in Dondo, a land where he did primary education, then continued his studies at the Seminary in Luanda where he studied Philosophy and Theology. He began his career as an administrative aspirant, reconciling his professional activity with teaching and promoting the cultural value of Angolan social anthropology. He joined the Finance and Accounting Services in the colonial era, which later became the guardianship of the Ministry of Finance, after the independence of Angola, in November 1975, there he assumed the position of director, a role he held until the time of his death in 1982.
As a writer, he was a contributor to several newspapers and publications — with emphasis on O Apostolado, Revista Angola, O Angolense, and Tribuna dos Muceques — using the pseudonyms MAFRANO and ANATECO.
As a speaker, he was emphatic and almost theatrical, in the opinion of some of his contemporaries.
He was professor of Portuguese Language and Philosophy at the College 28 de Maio, at the Makarenko Institute, at the Liceu Ngola Kiluanje, at Escola 1. Pio XII Institute (present-day ICRA - Institute of Religious Sciences of Angola). One of his students became a prominent figure in Angolan society because he was the first black Angolan to be ordained bishop: Don Eduardo André Muaca.
It was INALD, through a collection called, The Letter, which, in early 1986, recovered a beautiful tale of this writer for the first issue of this collection, The Boy Luis Brother of João Cassabalo.
Showing 1-1 of a total of 1 article(s)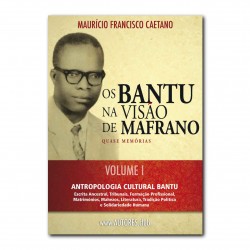 Normal price
€15.00
-10%
Price
€13.50