BOOKS PUBLISHED IN PORTUGUESE LANGUAGE
Filomeno Pascoal
Filomeno Pascoal is a 34-year-old native of Luanda and a Catholic Christian. Journalist and teacher. As a university professor he began his career in 2008, in several universities of the capital of the country: Lusíadas, Independente, Gregório Semedo and the Major Seminary of Luanda.

Social entrepreneur: creator and administrator of the first Angolan website on health and well-being (www.saudeangola-ao.com); coordinator and presenter of the radio program Saúde Angola, on radio Ecclesia – Catholic broadcaster of Angola, creator of Dinamikus Media e Serviços and commercial and marketing technician of Clínica Girassol.

Several courses related to communication sciences, entrepreneurship and the health sector.

Master's degree in Communication Sciences (ULHT-Lisbon-Portugal); Postgraduate in Hospital Management (UAN-Luanda-Angola); Graduated in Portuguese/Literature (UAN-Luanda-Angola) and Medium Journalism Technician (IMEL-Luanda-Angola).
Showing 1-1 of a total of 1 article(s)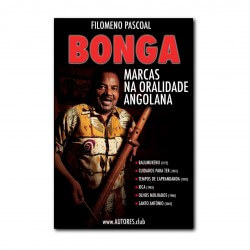 Normal price
€15.00
-10%
Price
€13.50