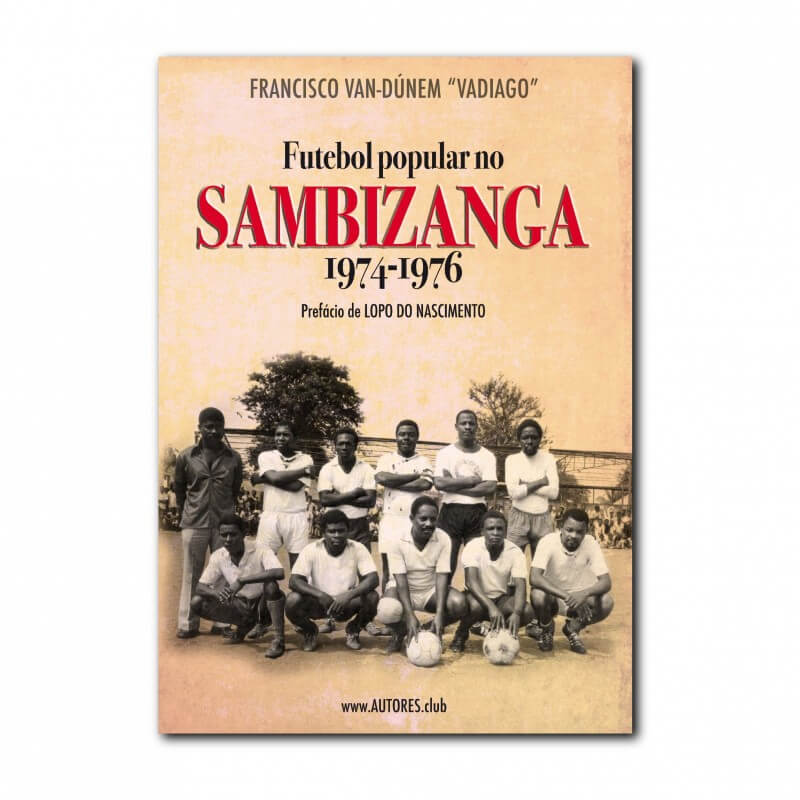  
Futebol Popular no Sambizanga 1974-1976 | Popular Football in Sambizanga 1974-1976
"At a time when everything and something was missing; in which even in urban centers only heard the hiss of the bullets and the ribombar of the cannons, with the pretext of greeting the proclamation of Independence, a young man who answered by the nickname "Vadiago" decided to break the monotony and organize a football test involving several teams from the Sambizanga neighborhood and surroundings".
"Progress" Magazine - November/December 2008 Edition
Author: Francisco Van-Dúnem "Vadiago"
Publisher: Alende | Perfil Criativo - Edições

Year of publication: Feb. 2020, 1st edition

Isbn: 978-989-54702-0-4 (EN) 878-989-33-0287-3 (ANG)

SECURITY
AUTORES.club uses security measures.

DELIVERIES
Portugal: 4 days; Europe: 10 days; Rest of the world: 20 days.

RETURNS
You can return your order within 14 days.
ORDERS
(+351) 214,001,788 | encomendas@autores.club
BOOKSTORES
Order from a store near you.
ONLINE ALTERNATIVES
Fnac | Worten | Wook | Bertrand | Promobooks
Index
Preface of Lopo do Nascimento
Introduction
CHAPTER 1
The daily life of Sambizanga at the end of the colonial era

CHAPTER 2
Football in the neighborhood - The feast of the people

CHAPTER 3
Socio-political context
April 25 and decolonization
Disturbances in the capital
Clashes between brothers
Independence of Angola

CHAPTER 4
The Bukavu field
MPLA gateway in Sambizanga

CHAPTER 5
1st Edition of the People's Independence Tournament
Participating teams

CHAPTER 6
2nd Edition of the People's Independence Tournament
Tournament finals

CHAPTER 7
The great teams of the tournament
Good Success Football Club
Progress Sambizanga Association
Santos Football Club

CHAPTER 8
Tributes
To the kotas of the Old Guard
To Cavungi

CHAPTER 9
New values in Sambizanga

CHAPTER 10
The Importance of Independence Tournaments

CHAPTER 11
Diagnosis of our football and subsidies for its development
The organization of clubs
The Angolan Football Federation \u2012 FAF

CHAPTER 12
Football infrastructures
The dirt fields
New infrastructure

CHAPTER 13
The massification of Angolan football
Popular Football
Corporate sport
School sport
Football schools
The Girabola

CHAPTER 14
Valuing the former glories of our football

CHAPTER 15
Old-school national coaches

Thanks
Bibliography and Fonts
16 other products in the same category: